In album:

Beauty Boutique LA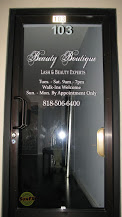 Beauty Boutique LA

Address: 12457 Ventura Blvd Ste 103
Studio City, CA 91604
Phone: (818) 506 6400
Website: http://beautyboutiquela.com
Email: info@beautyboutiquela.com

Beauty Boutique LA provides the best in facial treatments, eyelash extensions, eyebrow shaping and waxing in Studio City and Los Angeles to many satisfied and returning customers.

Our current range of products includes Xtreme Lashes™, Epicuren, Osmosis, Image, Jenette, and Le Mieux.
Commentaires
Ajouter un commentaire
S'il vous plaît connectez-vous pour pouvoir ajouter des commentaires !